Cores
Typically, only limited support Core functions are available to academic groups, and those are rarely focused on a common goal. To overcome this deficiency, we developed a highly integrated discovery enterprise with all critical support functions assembled in a development matrix that addresses viral and biological activity, HTS against targets along with advance biochemical evaluation, medicinal chemistry, PK-PD, toxicology, structural refinement, and animal infection models to critically assess Lead compound development.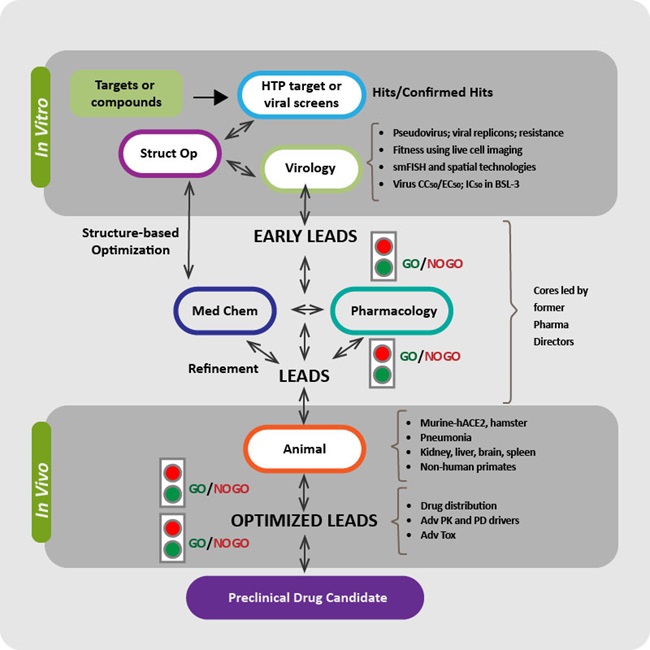 Most importantly, the proposed enterprise merges this detailed knowledge with experienced professionals who can accelerate the discovery and development of selected Optimized Leads and PDCs. All Cores are led by academic or former industry professionals with prominent experience in these areas. Finally, a highly-seasoned Internal Product Advisory Group to advise and monitor program progress, along with the Scientific Advisory Board well-versed in developing FDA-approved antiviral drugs will facilitate promising Lead compounds to emerge as PDCs, especially for those Projects unaligned with an industry partner. This modern academic paradigm ensures that critical support components of early drug discovery are available in real-time to support compound optimization. By adopting an enterprise-style approach, where all essential support Core functions for discovery and development are overseen and managed by MAVDA, we can efficiently advance and assess compound optimization in a manner that facilitates 'Go/No Go' decisions resulting in Optimized Leads and PDCs. The program is structured such that compounds with initial biological or antiviral activity from target-based or broad antiviral screens will be evaluated in initial in vitro screens against SARS-CoV-2 and a range of flaviviruses and alphaviruses. The MAVDA Core structure includes the following six scientific cores and one administrative core to help Project leaders optimize compounds as antiviral candidates.
Overview of Core Matrix for Compound Identification and Progression
Core
Core Leads
Institutions
Function
1
Charles Rice, Steve Goff
Yosef Sabo, David Perlin
Rockefeller, Columbia, CDI
Virology
2
Fraser Glickman
Rockefeller
High Throughput Screening
3
Larry Shapiro, Dinshaw Patel
Columbia, MSKCC
Structural Biology & Computational Modeling
4
Jim Balkovec, Joel Freundlich
CDI, Rutgers
Medicinal Chemistry
5
Vidmantas Petraitis, M.D., Matt Zimmerman
CDI
Pharmacology
6
David Perlin, Steve Park
CDI
Animal Models
7
David Perlin, Charles Rice
CDI, Rockefeller
Administrative
Core 1 - Virology Core
Core Leaders
Charles Rice, Ph.D.
Steve Goff, Ph.D.
Yosef Sabo, Ph.D.
David Perlin, Ph.D.
The MAVDA Virology Core (MVC; Core 1) has been established to provide cell-based infection assays to evaluate the effectiveness of hit and lead compounds targeting a range of essential viral enzymatic activities as identified by MAVDA Project Leaders. Working in close collaboration with all Project Teams and Cores, the MVC will conduct early-stage dose-response studies of hit and lead antiviral compounds in cells susceptible to SARSCoV- 2 and related coronaviruses. The MVC will also determine cytotoxicity and predict therapeutic windows for these compounds. The data provided by the MVC is essential for the drug discovery pipeline and will inform central iterative efforts to optimize promising compounds and form the basis for making go/no-go decisions for moving promising compounds forward into mechanistic and animal studies using relevant in vivo models of COVID-19. The MVC also has the added capability of selecting for and identifying resistant viral variants that may further inform modes of action for lead compounds, as well as efforts to maximize resistance barriers against viral escape from therapy. Capacity to screen additional viruses of pandemic importance, including alphaviruses and flaviviruses, will also be made available to Project Teams.
The MVC will be a single entity headed by Charles M. Rice (The Rockefeller University; RU), Stephen P. Goff and Yosef Sabo (Columbia University Medical Center; CUMC) and David S. Perlin (Center for Discovery and Innovation, Hackensack Meridian Health; CDI-HMH). Their combined labs possess decades of expertise in developing and implementing cell-based assays using natural virus isolates and engineered reporter systems from dozens of viruses in the corona-, flavi-, paramyxo-, bunya-, toga-, filo-, and picorna- RNA virus families.
The infrastructures of their host institutions and regulatory support for working with biosafety level 2 and 3 priority pathogens using state-of-the-art techniques with low to high-throughput capabilities will provide critical first pass and follow up pre-clinical evaluation support for compounds developed by MAVDA Projects 1-6. These efforts form a central pillar upon which compounds identified by Project teams can be rapidly and efficiently evaluated for antiviral potency and potential in vivo efficacy for a variety of viral infections while minimizing cellular toxicity.
Contact Virology Core:
Ching-Wen Chang, Ph.D.
Virology Core Coordinator
Center for Discovery and Innovation
chingwen.chang@hmh-cdi.org
---
Core 2 - High Throughput Screening
Core Leader
Fraser Glickman, Ph.D.
The overall goal of this program is to discover and develop small molecule orally bioavailable drugs to treat SARS-CoV2 and other viruses with pandemic potential. Our specific role is to provide a central core facility, with expertise and technologies that use high-throughput screening to identify potent and selective drug-like lead compounds and further characterize these compounds for concentration-response relationships, affinity, stoichiometry, off-rates, contributions of entropy and enthalpy of binding of the chosen molecular targets. We will also support testing in high-throughput phenotypic assays for anti-viral efficacy. We intend to work closely with the project leaders and medicinal chemists to rapidly gain critical information on the mechanism of action of various compounds derived from the chemical scaffolds identified in the screens conducted and to support medicinal chemistry programs in testing improved congeners for potency and selectivity against the primary targets.
Contact HTS Core:
Shlomi Dagan, Ph.D.
Research Support Specialist
Rockefeller University
sdagan@mail.rockefeller.edu
---
Core 3 - Structural Biology and Computational Modeling
Core Leaders
Larry Shapiro, Ph.D.
Dinshaw Patel, Ph.D.
The Structural Biology (SB) Core headed by Larry Shapiro and Dinshaw Patel will provide Research Project teams with biochemical, biophysical, structural and computational expertise and support towards identification and optimization of small-molecule inhibitors that individually and combinatorially target single- and multisubunit nonstructural proteins (Nsps) encoded by the SARS-CoV-2 viral genome. These targets include cysteine proteases 3CLpro (Nsp3) and PLpro (Nsp5) and RNA-dependent RNA polymerase (RdRp, Nsp12-Nsp7-Nsp82) critical for viral RNA transcription and replication, as well as the proofreading exonuclease (ExoN, Nsp14), the capping methylases N7-G-MTase (Nsp14-Nsp10) and 2'-O-MTase (Nsp16-Nsp10), and the multisubunit replication-transcription (RTC) complex critical for RNA capping machinery and synthesis fidelity.
Based on ongoing and anticipated collaborations, the Shapiro lab will support research on projects 1, 2 and 5 focused primarily on SARS-CoV-2 inhibitors targeting 3CLpro protease, while the Patel lab will support research on project 3 focused on SARSCoV-2 protease and methylase inhibitors and project 4 on inhibitors of viral RNA synthesis, including the RTC complex. The SB Core anticipates solving 6 to 9 x-ray based structures and 3 to 5 cryo-EM-based structures per year as part of this effort, while also providing computational expertise guiding iterative cycles of structure determination and chemical modification leading to optimization of the most promising candidates.
Contact Structural Biology and Computational Modeling Core:
Lawrence Shapiro, Ph.D.
Professor
Columbia University
Lss8@columbia.edu
---
Core 4 - Medicinal Chemistry
Core Leaders
James Balkovec, Ph.D.
Joel Freundlich, Ph.D.
The Medicinal Chemistry Core (MCC; Core 4) has been formed to address the urgent need for novel antiviral agents. The MCC will work seamlessly with the Project Teams and other Cores to drive the time- and cost efficient discovery and development of novel optimized lead compounds to target viral infections of global health significance. Critical to its mission is its competence in industrial and academic medicinal chemistry, which is highlighted by successful evolutions of hit to lead to approved drugs. The MCC will aid in the confirmation of hits discovered through structure-based design or experimental screens, evolve these to early and then optimize leads following a defined workflow with quantitative metrics for molecules at each stage in the process. The MCC will collaborate on projects focused on the discovery and development of 1) inhibitors of SARS-CoV-2 RNA dependent RNA polymerase (RdRp) (Nsp12/7/8) and exonuclease (ExoN) (Nsp14/10), 2) viral protease inhibitors from a high-throughput yeast-based screen, and 3) syn-BNP peptides as antiviral agents.
Contact Medicinal Chemistry core:
Joel Freundlich, Ph.D.
Professor
Rutgers University
freundjs@njms.rutgers.edu
---
Core 5 - Pharmacology
Core Leaders
Veronique Dartois, Ph.D.
Matthew Zimmerman
To be tested in efficacy studies and advance to preclinical development, small molecule antivirals must have the right balance of potency, exposure (pharmacokinetics, PK), and therapeutic index (acceptable ratio between efficacious and toxic concentrations). The Pharmacology Core will support advancement of promising hits and leads through tiered absorption, distribution, metabolism, and elimination (ADME) assessment and harmonized gating criteria, selecting compounds and chemical scaffolds with the essential attributes for efficacy studies and preclinical development. The Core will leverage a fully integrated analytical platform and state-of-the-art animal facility available at the Center for Discovery and Innovation, Hackensack Meridian Health (Nutley, NJ) to assist the assembled team. The Core Leader, Dr Véronique Dartois, has extensive experience in the pharmacological evaluation of anti-infective compounds, including 8 years supporting anti-Dengue drug discovery programs in the pharmaceutical industry.
To support hit-to-lead programs, we will carry out physicochemical and in vitro PK profiling as well as basic formulation development and in vivo snapshot PK in mice via different routes of administration. The data will be used to establish structure-activity relationships, to nominate leads and guide compound progression towards efficacy evaluation, according to conventional phase transition criteria. To support lead optimization programs, we will perform safety screens, full mouse and hamster PK, tissue distribution in pulmonary fluid and nasal compartments, intracellular uptake, and prodrug conversion studies. In close collaboration with all Projects and the Animal Model Core, we will integrate (i) plasma and pulmonary PK, (ii) plasma protein binding, (iii) uptake in relevant cell lines to factor in active transport/efflux processes, and (iv) potency measurements, to calculate pharmacokinetic-pharmacodynamic indices in plasma and at the site of infection, and to propose doses for tolerability and efficacy studies. Plasma and tissue concentrations will be monitored during murine and hamster efficacy studies. Harmonized threshold metrics will guide lead optimization and go-no/go decisions to minimize the risk of PK- and toxicity-related attrition later in the drug development process.
Contact Pharmacology core:
Matthew Zimmerman
Head of Analytical Chemistry
Center for Discovery and Innovation
Matthew.Zimmerman@hmh-cdi.org
---
Core 6 - Animal Models
Core Leaders
David Perlin, Ph.D.
Steven Park
Assessing and optimizing the treatment efficacy of novel leads against SARS CoV-2, other coronaviruses and additional RNA viruses of pandemic concern in animal models is crucial for advancing compounds to the preclinical stage of development. Currently, there is a paucity of reproducible disease models with reliablemetrics to assess lead compounds and even fewer facilities and personnel with the expertise to perform these essential studies. To meet this critical challenge, the MAVDA Animal Model Core will provide validated and reproducible pulmonary infection models in rodents under biosafety level 3 (BSL-3) containment for SARS CoV-2 and other coronaviruses including MERS. These pulmonary infection models utilize transgenic mice expressing hACE2 (K18-hACE2) or hDPP4 (K18-hDPP4) and Outbred Golden Syrian Hamsters that display a range of disease pathology observed clinically with these Coronaviruses. Other rodent models will be made available toassess leads against other clinically important Toga- and Flavi- RNA viruses. The Aims of the core are to: 1) provide small animal pulmonary infection models for SARS CoV-2, other Coronaviruses (SARS CoV and MERS), clinically relevant disease models for other RNA viruses of pandemic concern, and to rapidly evaluate lead compounds, and 2) advance leads to the pre-clinical stage of development by performing pharmacodynamic response and dose optimization studies in the described animal infection models.
The Animal Model Core under the direction of Dr. David Perlin is highly experienced and previously served as a multi-institutional regional animal core providing BSL-3 animal models for the Region II Regional Center of Excellent (RCE; Northeast Biodefense Center) for 10 years (2003-2013) and one of the NIH Center of Excellence for Translational Research (CETRs) for the past 8 years (2013 to present). The Animal Core operates at a very high capacity, having logged more than 3.0 million animal days of BSL-3 high threat bacterial and viral pathogens since 2003. An experienced and dedicated high containment animal model team can perform small animal pulmonary infection models with multiple routes of treatment (oral, subcutaneous, intramuscular) and markers for disease (morbidity/mortality, microbial burden, histopathology, etc.) Output measures include daily weight loss, nasal wash, lung and other vital organ viral burdens (TCID50; qPCR, PFU), and histopathological analysis at key sites of infection. The management staff of the Animal Model Core works closely with both the project leadership and other Core Directors (e.g., Pharmacology and Virology) to ensure all novel leads are rapidly vetted through the development pipeline. This close and constant line of communication permits the necessary adjustments in study design and execution and has resulted in the advancement of 7 promising leads in the RUCDI CETR projects from 2013 to 2021. The Animal Model Core possesses cutting edge instrumentation in the high containment lab for analysis of infections and therapeutic responses. All services can be performed under high-level biocontainment with regulatory approval.
Contact Animal Models core:
Steven Park
Director of Laboratory Support Operations
Center for Discovery and Innovation
steven.park@hmh-cdi.org
---
Core 7 - Administrative Core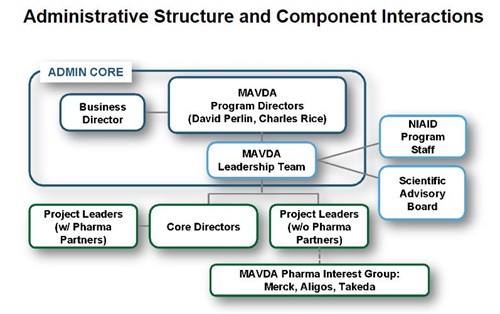 Core Leaders
David Perlin, Ph.D.
Charlie Rice, Ph.D.
The MAVDA Administrative Core (MAC) will be established as an integrated, priority-setting consortium involving the Program Directors (PDs), a Business Director (BD), an internal MAVDA Leadership Team (MLT), and a Scientific Advisory Board (SAB) with programmatic involvement from NIAID to enhance potential product outcome in the form of antivirals against SAR-CoV-2 and other viruses with pandemic potential. The management function is designed to provide administrative support that facilitates the success of individual projects, promotes effective integration and allocation of support functions and resources, and stimulates scientific exchange between MAVDA members, thus ensuring that the overall program achieves its objectives.
The MAC will be overseen by co-PDs, Dr. David S. Perlin and Dr. Charles M. Rice, who will be supported by an experienced BD and appropriate support staff to coordinate and manage all administrative functions. To best advance MAVDA's objectives, the MAC will coordinate regular meetings of Project Leaders, Pharma/Biotech Partners, Core Directors, and SAB members. The meetings are designed to advance compounds through the discovery matrix enabling timely and objective 'Go/No Go' decision making. A secure web-based platform will be used to foster interactions between Projects and Cores. The MAC will facilitate an annual review meeting with the SAB, and a reverse site visit at NIAID. It will produce and submit the annual progress report to the NIH, and it will coordinate research publications, meeting presentations, reports and press releases. MAVDA is designed to encourage partnering among academia and industry, specifically Pharma and Biotech companies, and has protections in place to protect the intellectual property of participating organizations. There is universal confidentiality between projects and cores, with data shared as required to advance compounds and at no risk to the project team. As MAVDA retains no IP rights, all IP rights reside in the host institutions or per agreements with industry partners.
The MAC will execute the following functions:
Establish a highly efficient management structure that supplies essential oversight and guidance for Project Leaders and Core Directors, effectively integrates the Scientific Advisory Board as strategic advisors in the discovery process, and promotes scientific exchange.
Maximize allocation of resources and prioritize compound development by establishing critical metrics for 'Go/No Go' decision making and resource allocations by supporting close interactions of Project Leaders and Core Directors and scheduling regular reviews
Annually assess project performance and prepare interim and year-end reports.
Solicit and manage Developmental and Mentored Research Projects.
Coordinate publications, presentations of results, and press releases from these studies and develop a managerial plan for conflict resolution and other operational issues
Establish an internal organizational structure that addresses logistics for material transfer agreements, intellectual property filings, licensing opportunities, and negotiations.
Contact Administrative core:
Madhuvika Murugan, Ph.D.
MAVDA Project Coordinator
Center for Discovery and Innovation
madhuvika.murugan@hmh-cdi.org